Who is Kiya Ashton?
Kiya is an established singer/songwriter and performer in Guernsey's local music scene, sometimes venturing out to its neighbouring islands, like Sark, as well as the UK.  
She takes plenty of influence from musicians like British folk artist Kate Rusby, pop rock legend Avril Lavigne, and 90s alt rock bands Incubus and The Cranberries.
Since beginning her musical journey in 2014, she's crafted a multi genre sound that compliments the emotional tales that she presents in her songs. Her tunes inspire deep thought and encompass you in a floating bubble of relaxation. 
Find Kiya's music under the Shop tab and stream on Spotify. X 
Latest News
A BAND?! Yes, you heard me. Kiya Ashton & The Folkadelics have kicked the summer off with a bang after headlining the VEF's Lib Day gig and making some noise on our favourite rock, Sark, in the Mermaid pub for Mermfest!! Plenty more to come from us...
"Occupied" Soundtrack Available Now! After many months of hard work in 2021, the soundtrack from local war film 'Occupied' can be heard on CD and all major streaming platforms. Kiya features with an extended version of Guernsey's anthem 'Sarnia Cherie', a rendition that has an enchanting sound of its own, as performed in 2022 at the Specsavers Liberation Hangar Ball. 
"Chirrup" Latest EP Available Now! This luscious mini-album is brimming with natural imagery, a journey of Kiya maturing, heartbreak, and, of course, a healthy dose of tension. The title track "Birdie" follows the story of the little baby blackbird, hunted down by a magpie, as it explores the world for the first time.
To support Kiya's music, download or purchase CDs here, and stream on Spotify here. Thank you! X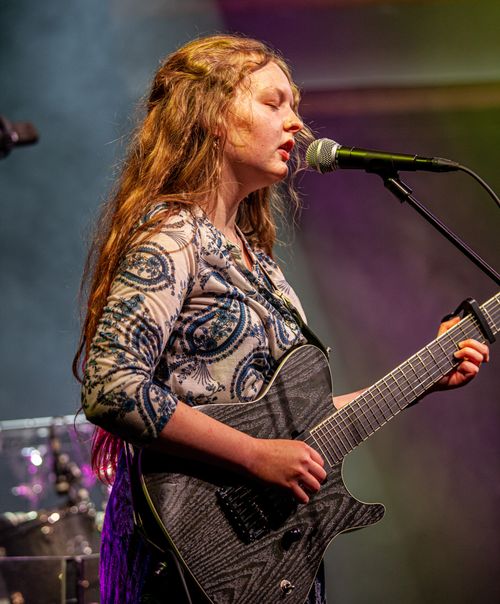 Cover photo by John White, taken in Bluebell Woods for funsies. We were careful not to damage the flowers! More from the shoot in the Gallery. X