Who is Kiya Ashton?
Kiya is an established singer/songwriter and performer in Guernsey's local music scene, sometimes venturing out to its neighbouring islands, like Sark, as well as the UK.  
She takes plenty of influence from musicians like British folk artist Kate Rusby, pop rock legend Avril Lavigne, and 90s alt rock bands Incubus and The Cranberries.
Since beginning her musical journey seriously in 2013, she's crafted a multi genre sound that compliments the emotional tales that she presents in her songs. Her tunes inspire deep thought and encompass you in a floating bubble of relaxation. 
Find Kiya's music under the Shop tab and stream on Spotify. X 
Latest News
A BAND?! Yes, you heard me. This solo artist now has three amazing local musicians joining her endeavours. Come see Kiya & The Folkadelics this Liberation Day at The Last Post! 
"Occupied" Soundtrack OUT NOW! After months of hard work and a successful launch event in Candie Museum, you can get your hands on a copy of the Occupied Original Motion Picture Soundtrack, as heard throughout the local short film (directed by Alex Bates), along with an extended version of 'Sarnia Cherie' sung by Kiya Ashton, arranged by the soundtrack's composer Joseph Collier.
Latest EP "Chirrup" up for grabs! This luscious mini-album is brimming with natural imagery, a journey of me maturing, heartbreak, and, of course, a healthy dose of tension. The title track "Birdie" follows the story of a little baby blackbird hunted by a magpie as it sees the world from a new perspective for the first time.
"Chirrup" is available in CD and digital form in the 'Shop' tab, as well as my 2018 release "Sweet Decadence" ft 3 tracks built up to a full orchestral rock sound by Apocalypse Studios.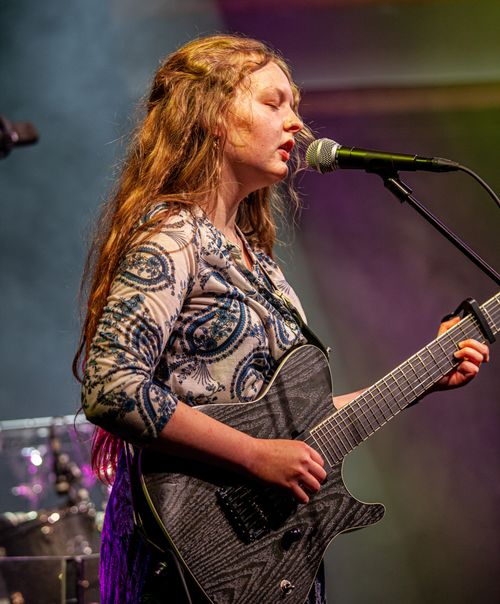 Cover photo by John White, taken in Bluebell Woods for funsies. We were careful not to damage the flowers! More from the shoot in the Gallery. X