In 1940, the island of Guernsey was left defenceless after being demilitarised by the British Government. The island was attacked on the 28th of June in a German air raid and was then occupied by Nazi forces for the remainder of World War II.
The local short-film Occupied ventures into this time in our history, using both the local talent and breathtaking landscapes that Guernsey has to offer, a first for the war films depicting our island. The film is immersive and powerful, exploring themes of isolation and grief as the main character, Carolyn, loses loved ones during the White Rock bombing. 

The Audition
Now, it's 2021. January 25th, to be exact. White Rock Productions posted a plea on the world of Facebook for a "female singer with a soft, folk voice" to be a part of the soundtrack. My phone proceeded to scream at me as I was tagged in comment after comment as the singer for the job. So thanks for that guys!! Felt a bit famous.
With this encouragement, I whipped up something of a musical CV and got in touch with the team behind Occupied, who shared with me the demo of Sarnia Cherie, arranged by Joseph Collier. My first impression of the arrangement was pure joy as an ethereal piano track unfolded before my ears. 
Now, most folk over here know the chorus of Sarnia Cherie, but the rest of the song proves a bit of a mystery to the general population (me). Luckily, YouTube was on my side and I found a few different versions to take a look at. The first was this choral version. I was very inspired by the haunting sound of this version, though we weren't going for quite the same church hall reverb that they had. I also noticed that this particular version used lots of rounded sounds, something fairly typical in choral/classical music. Whilst these sounds resonate beautifully in this rendition, I decided to bring out some brighter sounds on the high notes for my version.

This next version gave me a more clarity on individual notes which came in handy. The diction is very strong in this version, and I also noted the obvious vibrato that decorated the song. I began singing along and playing with the tone of my voice, taking some mental notes on the very classical vocal style this rendition has. This style of singing can be absolutely gorgeous, but I do feel totally fake when I do it.
I do, however, often take small stylistics from a variety of genres, including classical, to then use in my own music. For instance I've used a little vibrato on some of the grander notes to add some texture, and for this piece in particular I payed closer attention to my diction than I would normally for my own original music in order to pay homage to its classical roots. However I didn't emphasise my pronunciation further than still felt natural, which I think tied it in to this floaty piano arrangement that Joseph had made. 
But, I'm getting way ahead of myself! Quite a lot of those choices came after experimenting when recording my demo. A process which saw a lot of tears from me, because I find nothing more frustrating than DIY recording! It had been maybe a year since I'd properly home recorded, with the demo for Anchor being that last project, so remembering how to work GarageBand was interesting! I've never been all that good on it anyway, much to learn, but on top of this loads of my recording gear was giving out on me, and I ended up submitting half the song! It was still more than 3 minutes long though.
Learning the original Sarnia Cherie was the straightforward part. Play a version, hum along, get lyrics, sing, keep singing. The new arrangement was a little different. Although I could apply some things from the original versions, there was such a dramatic time difference between them that I felt like I was relearning it all from scratch! The sheet music also didn't include lyrics, only the vocal melody and then the piano part. I really struggled to figure out some of the phrasing because of this, and it meant I had to trust my gut. 
And so, many deleted takes and lots of self criticism later, I said screw it, it's a demo, and hit send. 
One month later I had confirmation that director, Alex Bates, and composer, Joseph Collier, wanted my voice for the track. Whilst I was shocked to hear this, because I was in no way happy with the demo I'd sent, I was ecstatic that these guys resonated with my version, and ultimately saw a reflection of the film within it.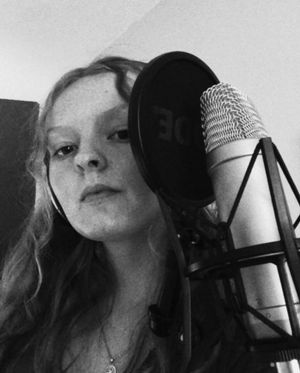 Recording For The Film
The next step was virtually meeting Joseph and exchanging ideas for the official recording. I wish I could think back to our discussion in detail, but so much has happened since last year that I simply haven't got the brain space!! I do remember how useful it was to share ideas and further develop the song as a story, unlike with the demo where I only had my ideas and interpretations to work with. We also ironed out a couple of timing and phrasing differences, but mostly we just got familiar with each other and the vision for the song/film.
From here, it should've been all systems go! But my laptop kicked it. Suddenly I had no device, or DAW (digital audio workstation) to record the song on. So I tried my absolute best to get GarageBand on the MacBook leant to me, but the app store was blocked. And so began my attempts at Audacity and Pro Tools, quickly realising I couldn't wrap my head around them to get to work on Sarnia Cherie in time. 
Luckily, my family came to the rescue, as they often do, and my grandparents offered up their 2012 Mac. Familiarity was restored! I still hit plenty of bumps along the way though, including old versions of GarageBand, and my lack of detailed understanding of DIY recording.
But, now with 3 weeks until the film premiere, the cracking on commenced!
I began recording as I played around with the full version, checking in with Joseph to confirm the structure of the arrangement. Somewhere down the line I started listening to my body, and I started to notice how tired I was getting after singing the piece just a couple of times in one session. From this project I had realised that my vocal stamina was lacking a bit, but this was really impacting the work I was doing.
With some assistance from the lovely Lisa Murfitt, we agreed that the song was simply too high (not something I say lightly) for me to comfortably sing for long periods of time, which was unfortunately the best way to get lots of takes. So, we endeavoured to find a suitable key. Eventually after talking to Joseph about it we agreed to take it down from Eb to C, which offered the piece a little more depth, less shrill high notes, and my voice a little relief after hammering it out for so long.
We then decided to go ahead and lay some extra tracks and harmonies down, though I had issues finding ones that fitted thanks to all the lush suspended chords that Joseph had written in. But, I just kept experimenting until we had something we were happy with. 
Now, 6 days before the film premieres, we have a completed track that both Alex and Joseph are happy with. Sweet!
At the end of it though I didn't feel very proud of my work, just proud I was still functioning! I really struggled on this project, making creative decisions about the piece, whilst adopting a studio engineer persona, and trying to manage my own health throughout (vocal and otherwise) was seriously very difficult. And because I was often very overwhelmed when recording, my performance on the recording was no where near my best. However, the version you hear at the end of the film is the absolute best I could get out of myself during those 3 weeks, and to be honest, when I listen back now a year on, I think it's my favourite recorded version we did for the project. 
 
The Premiere
On the 13th of May 2021, Occupied was presented to a packed out Beau Sejour Theatre. A treat for anyone who came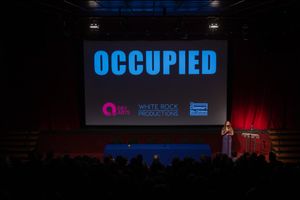 to see it indeed! I went along with my family, and it was amazing to see the finished film in all its glory, with all the sound design added in. I was stunned. And totally bricking it for my performance. I broke out the heels for the first time in a while, and was absolutely convinced I was going face first down the stairs on my way down to perform.
I was introduced and called up (or down) to the stage, and with a tactical sip of water I began my descent. I survived! No fall. I reached my microphone, settled in place, and began singing the Sarnia Cherie that myself and Joseph Collier had worked so hard on. 
I cued in the backing track with a (hopefully) natural hand gesture, and was very nearly caught out with it coming in a few milliseconds sooner than I counted, but managed to save it! We knew that might happen. Huge thanks to the sound guy that night for practising it with me a couple of times.
It was absolutely incredible to be performing to a room of 400, and to only hear myself and the track. Nothing else. I mean, people are fairly well behaved at my solo gigs, but it'll never be that quiet in a pub! And what was even more amazing was talking to people after the show. One gentleman stood out as he came up to me, still, with tears in his eyes. Connections like this made all that work so worth it. 

The CD
About a week after the premiere, and my birthday weekend off, we started on the CD. But before I get into all the details, I must give a mention to Keith Pengelley from GNET Radio & Thinking on Your Feet. This wonderful chap had me on his show to talk about music and spin a few tunes, and then, if I remember rightly, Keith also had Alex Bates on the same show, a brilliant coincidence considering Keith didn't know I was working on Sarnia Cherie! So the three of had a nice impromptu chat about how it was all going, and Keith offered to sponsor us to make the CDs of the soundtrack, a very generous gesture that I won't be forgetting any time soon!
(You can listen to Keith's show here at 3pm on Fridays)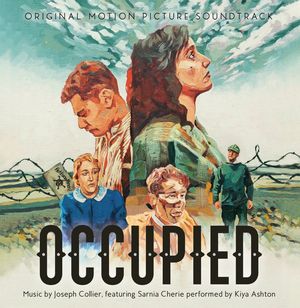 So, after all I learnt from recording for the film, I had thought this extended version would go a lot more smoothly. I was more familiar with the song, and I knew what I wanted to do with it. But that's not exactly how it played out, because it was that month I took the leap into "The Day Job". Doing retail 9:30am-5pm was not exactly my dream, so as it slowly sucked out all of my enthusiasm for life, I also had to battle how this new routine was affecting my Fibromyalgia and Hyper-Mobility Syndrome. 
I don't recommend that any folk with chronic pain/fatigue do a 30h day job, evening classes, and then pursue a music career on top. I was just burning myself out and never recovering, and it really impacted my creativity and confidence in my abilities. I felt super lost.
So, after trying to record a few different evenings with pockets of time and failing, I set aside a weekend dedicated to finishing Sarnia Cherie. But, that was the weekend I got too sick to sing, typical! Threw me way off.
Alex and Joseph couldn't have been sweeter about it all though, which I'm very grateful for.
About 6 weeks after the premiere, I managed a handful of takes that covered good bits of everything, or at least the best I was going to get out my worn out body. I cracked out some harmonies, and proceeded to ruin our internet connection as I sent them to Joseph to mix.
I was definitely not proud of my work, which is a horrible feeling when you've tried so hard on a project. But, after all, these renditions have brought tears and a smile to so many people's faces, and that, along with the hours of hard work, is what I'm now proud of. And it's all I ever really strive for with music, to make someone feel something.
The launch event at Candie Museum was lovely, we showed the film in the theatre and followed this with a performance of Sarnia Cherie, which you can watch for yourselves here from the livestream! Camera work credit to my mum.
This was such a beautiful little gig, and so fulfilling to be able to properly talk to people in the audience afterwards. The folks from the museum and Gsy Arts were super helpful throughout the whole process for this event and I want to give them a huge thanks for that, and to everyone who walked up that exhausting hill to support the project! 
Performing Sarnia Cherie live has been the highlight of this whole process by far. I doubt myself so much less when I perform live compared to recording in a studio. In a studio, you can always go back and edit a track. In a studio, you can hear every little detail in your playing. Every minuscule crackle in the texture of your voice, every breath that just doesn't sound all that nice.
With a live performance, your microphone isn't going to pick up anywhere near as much detail as a studio mic. But, I also know that whatever happens will happen, there's no dropping back in at time 1:36 on the track and tweaking, it's just what it is. And maybe it's a little strange, but I find that quite comforting.
 
And with that, I will conclude this blog entry! Thank you for reading, I know it was a fairly long one. I wanted to write about Sarnia Cherie now that Lib Day is coming along again, and some of you will know that I've been asked to perform our version live at the Hangar Balls and Liberation Tea Dance this year! An honour to say the least, and even further out of my comfort zone.
There are still some tickets left for the balls so if you fancy it, get yours here. And don't forget that my next gig with The Folkadelics is on Lib Day at The Last Post, so it's a big weekend for me! Be lovely to see familiar faces at any of the events over the Liberation weekend.
See you soon guys! X
Read my other blog posts here
Get a copy of the Occupied Soundtrack here
Stream here 
Follow White Rock Productions here
Follow Joseph Collier here